An astrophotography mount performance overview.
53 Brands listed : Anssen technologies, AOK, APM, ASA, Astelco, Astromount, Astro Optik, Astro-Physics, AstroDreamTech, Avalon Instruments, Axis, Bauer, Bellincioni, Berlebach, Bosma, Celestron, Chronos, E.Alt, Equinox Interscience, Fornax, Gemini, Geoptik, Hobym, House of Optics, Intes-Micro, iOptron, Iott Precision Instruments, Kson, Losmandy, MillenniumMount, Mitaka Kohki, MAM, Mathis Instruments, Meade, Mesu, Mountain Instruments, Omegon, Optical Guidance Systems, Orion, Parallax Instruments, Paramount, PlaneWave Instruments, RG, RM-engineering, Showa, Sideres, SkyVision, Sky-Watcher, Synta, Takahashi, Track The Stars, Trassud, TS Optics, Vixen.
Mount must be commercially available, have GOTO, allow guiding, minimum payload >10 kg. #mounts : 144.
Notes :
Additions and corrections are very welcome ! Please email them to :
Peak to peak periodic error is very crude. Need a PE curve smoothness qualifier. Suggestions are welcome.
Max payload listed is the visual maximum payload (so that the mounts can at least be compared). Payload does not include counterweights.
Price hints include a goto system and tripod/pier to ease comparison.
Are these mounts still commercially available ? Arcane, Astro Optik, Lichtenknecker, Tal, Valmeca.
Interesting links :
Price vs. payload graph #1, for prices below 10k€: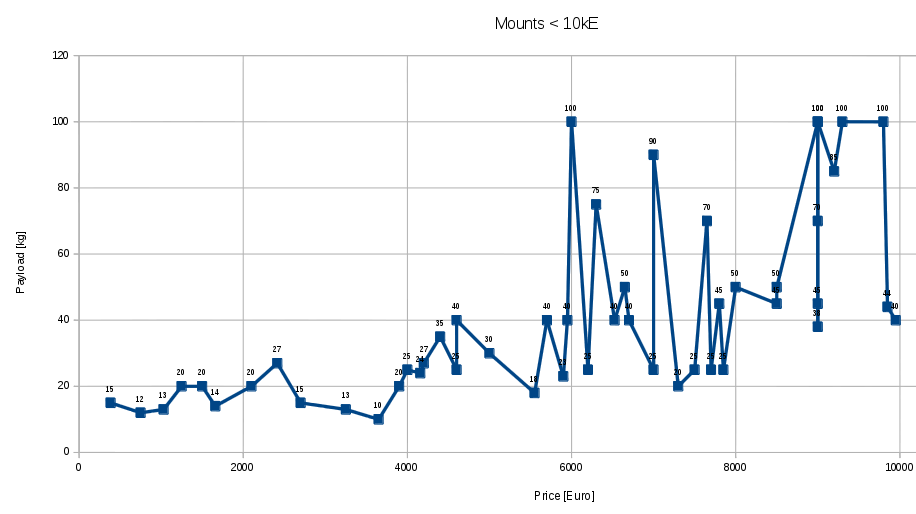 Price vs. payload graph #2: